Powering Your Child's Future with Knowledge.
Whether your kids are interested in science, electricity, or how our government works, we've got a program for them!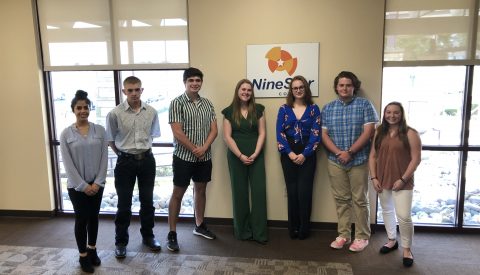 Our Scholarship Program
NineStar provides 15 scholarships annually to exceptional high school seniors in our service area.
The criteria:
The graduating senior must live in a NineStar-member household.
The student must have a minimum cumulative grade point average of 2.75 on a 4.00 scale or its equivalent, at the time of the application.
Apply November 29, 2022 through February 10, 2023
For more information, please contact Dominique Egbert at degbert@ninestarconnect.com or 317-326-3131.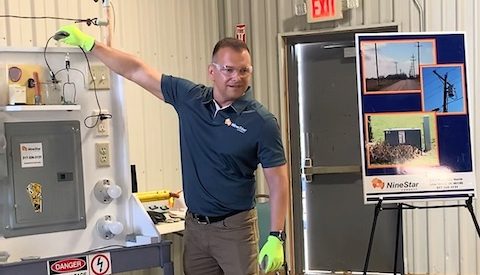 Electrical Safety and Energy-Saving Education
Because energy safety and conservation education is especially important for school-aged children, we offer a fun, multi-dimensional program for fourth graders in our service territory. During the one-hour presentation, kids learn safety and energy- saving habits through an electrical simulation board, showing them how power is delivered to homes and schools. Our simulator is complete with a meter base, breaker panel, lights, outlets, switches, and high voltage power lines. The potential danger electricity presents is simulated when we "fry" a hotdog on pseudo high-voltage power lines—this part of the lesson is always a highlight of the program. If you're interested in bringing the presentation to your school, teachers can contact NineStar Energy Advisor Matt Strahl at mstrahl@ninestarconnect.com or 317-323-2042.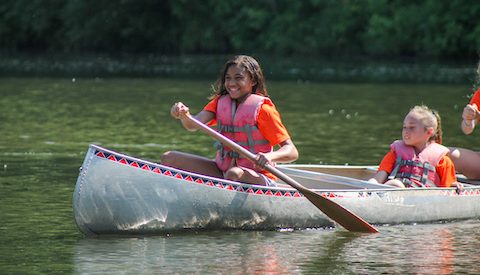 Camp Kilowatt
Camp Kilowatt is a fun and unique camp experience for sixth grade students going into seventh grade across Indiana. In 2023, camp takes place June 7-10th at Camp Tecumseh in Brookston, Indiana. Kids get the chance to learn more about energy while making new friends and enjoying fun activities and games which includes horseback riding, canoeing rock climbing, zip lining, and more!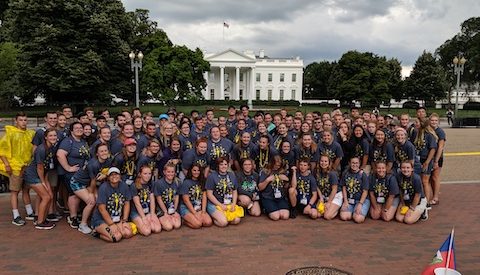 Washington, D.C. Youth Tour
Area high school juniors can apply to join other Indiana teens on a once-in-a-lifetime educational trip to our nation's capital.
The seven-day program begins with a tour of the Indiana Statehouse and a get-acquainted dinner. The next day the students fly to Pennsylvania, where they visit historic Gettysburg before heading to Washington, D.C., for a night tour of the city.
To be eligible, applicants must have completed their junior year in high school and be enrolled for their senior year (at time of the tour). The 2023 tour dates are June 11th – 18th.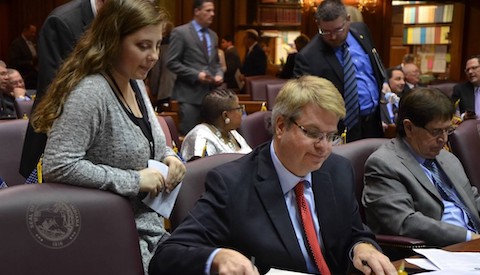 Indiana Electric Cooperative Page Day
Participating in Page Day with the Indiana Senate teaches high school students about state government and how bills become law. Highlights include an Indiana Statehouse tour, mock bill activity, and hearing from special speakers. Students may also see the Indiana Legislature in action and meet their legislators. If you have questions, contact Ann Mears at amears@indianaec.org, (317)487-2226. Page Day applications are available here.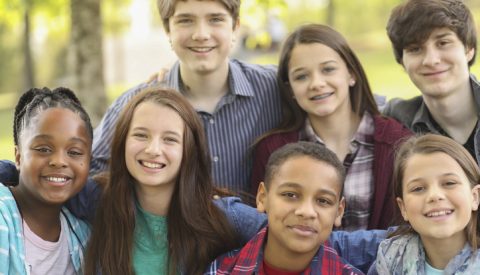 Youth Power and Hope Awards
Our Youth Power and Hope Awards program honors students in fifth through eighth grades who are leaders in their communities and whose parents are members of Indiana's electric co-ops. Five winners are selected to attend a special program in their honor in Indianapolis in December. Winners are also featured in Indiana's electric cooperative's magazine Electric Consumer and The NineStar Connection.
To be considered, students must reside with a member of one of Indiana's electric co-ops and submit an application detailing their community involvement. A reference letter from a trusted adult is also required.
Past award recipients include students who have initiated a coat drive for the underprivileged, supported patients at Riley Hospital for Children, worked with special needs children, volunteered at a local animal shelter, raised money for the American Cancer Society, and more.
More information coming soon!