Capital Campaign
Extending Our Reach
Due to the overwhelming response to this program we are happy to announce that we have met our goal of $250,000.
EXTENDING OUR REACH WITH YOUR SUPPORT
As a cooperative, we're always thinking about new ways to bring value to our members. And as an electric utility, we're regularly upgrading and replacing equipment to ensure reliable service and safety. Usually when we buy new equipment, we go through a lender  and borrow from them, and they get the interest on the amount financed.
Then we had an idea: what if we could pay YOU that interest, instead of the finance company? If we offer our members the opportunity to finance our next equipment purchase, we could pay interest back to our members and keep more of our money local.
Our goal is to purchase a new bucket-truck, and we're asking if you would like to help us finance it. This is an opportunity to grow our cooperative economy and serve you by paying you the interest!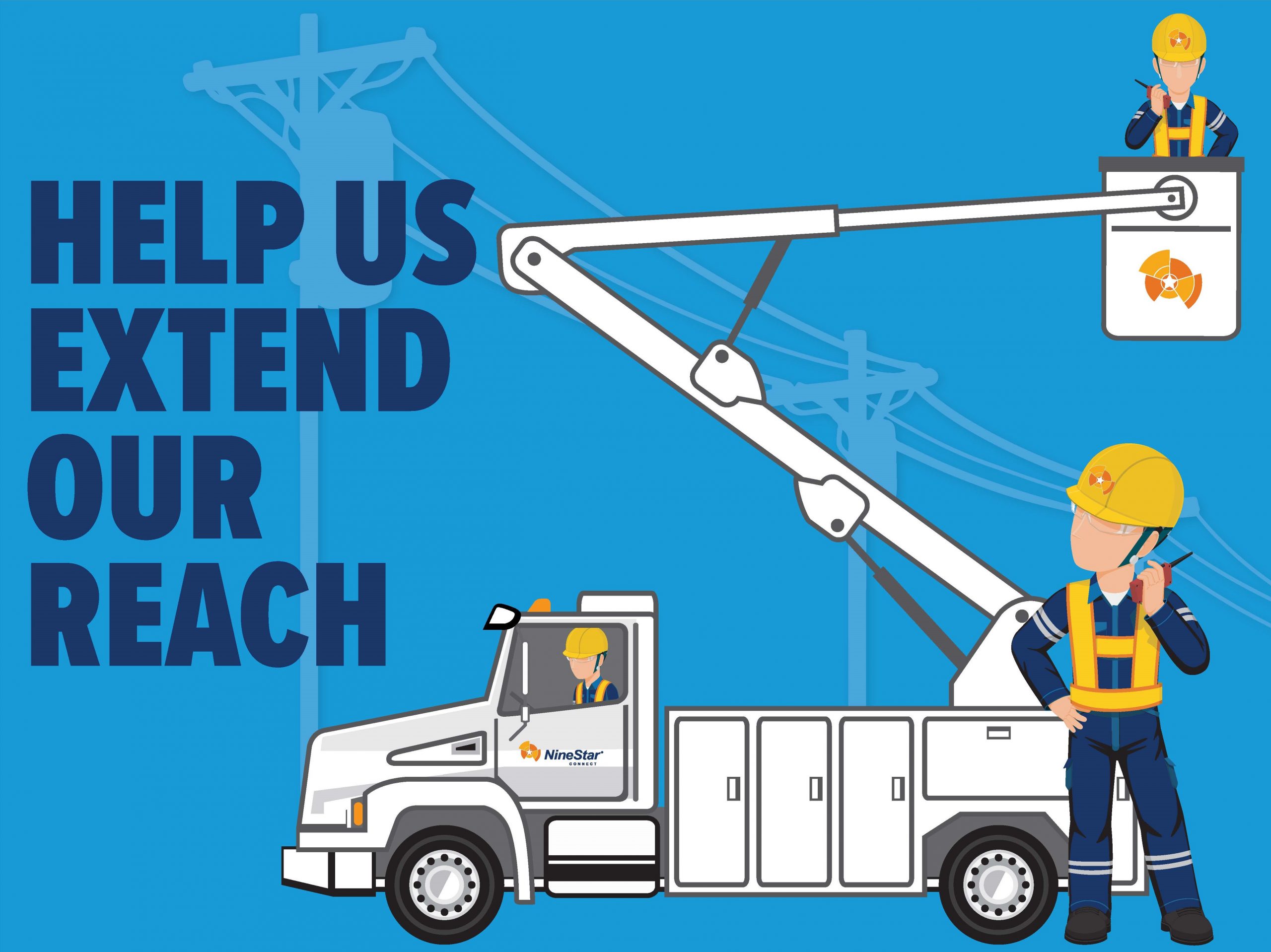 This is an exciting challenge for NineStar and our members. Our goal is to purchase a new bucket truck. Instead of going to a lender, we are seeking to raise $250,000 in member loans and pay you the interest. This is an opportunity to grow our cooperative economy and serve you.
Currently, we've raised $250,000 in member loans!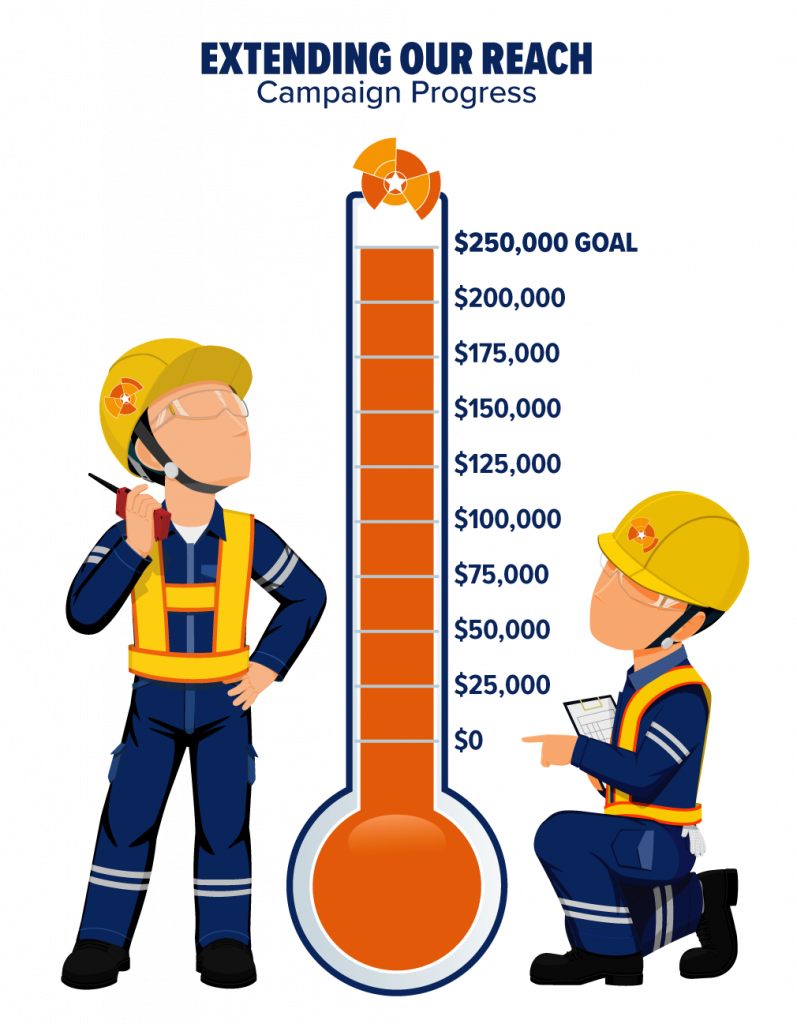 BECOME AN IMPACT INVESTOR
You can invest in NineStar's Extending Our Reach Capital Campaign that allows you to invest in our capacity while earning a return on your investment! The minimum investment is $1,000, with a 3% return on investment (ROI) with a 3-year term.*
Open To
Minimum
Investment
Maximum
Investment
Term
Interest Rate
Any NineStar Member
Residing in Indiana
$1,000
$10,000
3-Years
3%
Campaign Information
Read through our campaign letter & brochure and view our Town Hall video!
Town Hall
Did you miss the Town Hall introducing our Capital Campaign? View it now to learn more.
Frequently Asked Questions
A capital campaign is a targeted fundraising campaign that your non-profit launches to raise money for a specific (and usually large) project.
Instead of taking out a big loan with a bank, NineStar will instead take out many smaller loans with its members. As a member-owner in Indiana, you can transfer funds that you might have in a CD or a money market to instead invest in your Co-op.
It's pretty simple! We're buying a new bucket truck, and instead of our usual financing method we're letting YOU earn 3% interest for 3 years if you loan $1,000 to $10,000 to help us buy this truck.
As a Not-for-Profit Cooperative Business, we are always looking for more ways to serve our members. We thought this would be a neat way to do something we're going to do anyways, but with members taking part and earning some money.
Not at all! We buy new equipment regularly and usually finance it like most businesses do with large purchases. This time we want our members to receive the interest from the financing.
Nope, this is completely voluntary.
The money will be used to buy a new bucket truck that is used for line maintenance and repair on our electric lines.
The program is only open to residents of Indiana who are also members of NineStar Connect.
Yes. Other types of co-ops around the country routinely raise money from their members to help them pay for new facilities and equipment. With your help, we can do this!
We set that minimum so that we'll have a manageable number of loans. It is fine if you don't want to loan that much. We appreciate you being a member of NineStar Connect and you can help by telling your friends and neighbors who are NineStar Connect members in Indiana that they should consider a loan.
Just fill out the online form above. Someone from NineStar will reach back out to you to discuss the process and answer any questions you may have.
No, we are only accepting checks or ACH transfer from your credit union or bank account
Unfortunately we are legally restricted to Indiana residents.
Your loan is part of your estate and is treated like the rest of your assets. Consult with your financial advisors about it.
You should not expect to get the money back early.  We've made the terms nice and short at 3 years.
Unfortunately only our trained staff can use these trucks. Any time you see one, though, you can think "I helped buy that truck!" and you'll know that you are earning extra money because you are a member of NineStar Connect!
This is a new program for us. We're going to see how it goes, and if all goes well there may be more opportunities in the future. We'll let you know if there are!   
Simple interest is a quick and easy method of calculating the interest charge on a loan. Simple interest is determined by multiplying the daily interest rate by the principal by the number of days that elapse between payments.
This is an unsecured loan.
Interest will be paid out annually, based of the date paperwork is finalized.
Yes, the interest is taxable and we will issue 1099 forms.
Yes, our comparative balance sheet and statement of operations are included in the offering memorandum, which is part of the paperwork that is sent to you.
* Sales will only be made to residents or businesses domiciled in Indiana. O­ffers and sales of these securities are made under an exemption from registration and have not been registered under the Securities Act of 1933. For a period of six months from the date of the sale by the issuer of the securities, any resale of the securities (or the underlying securities in the case of convertible securities) shall be made only to persons or businesses residing within the state or territory of Indiana.
The security has not been reviewed or recommended by the state or federal governments.