Maintaining and Planting Tree Tips
Before any planting or landscaping project, be aware of the impact your efforts can have on your electric service. First, place all trees, plants, shrubs and fences a minimum of 10 feet away from electrical equipment. This will prevent your landscaping items from being removed or trimmed to provide our crews access to equipment.
The tendency is for homeowners to plant around a pad-mounted transformer to "cover up the green box." However, NineStar Connect workers need room to work safely on this energized device. Obstructions can cause delays in power restoration, and overgrown or hindering vegetation can create an unsafe working environment.
Here are a few more landscaping tips:
Do not use ivy or other climbing plants around equipment.
Use grass, gravel, or 2-inch rock around electrical equipment, but do not change the grade. Don't place dirt or wood chips against any portion of the transformer; as this could cause it to overheat.
Don't plant trees near pad-mounted transformers. A tree's large root system could lift the concrete/fiberglass pad and potentially create a power outage. Select plants that are slow growing and easy to maintain.
Avoid using plants with thorns, and don't allow plants to overgrow the transformer.
Keep in mind, too, that these transformers indicate buried lines in the area, so be sure to call 811 or 1-800-382-5544 before you dig so locators can mark all underground cables at your location. It's a free service that could save you time, money, and could help you avoid a serious injury.
If you want to find trees and shrubs that suit your planting needs but won't interfere with the cooperative's equipment, go check out the National Arbor Day Foundation's "Right Tree in the Right Place" article at www.arborday.org. You can also consult a local nursery for the correct types of trees for planting in the space you have available.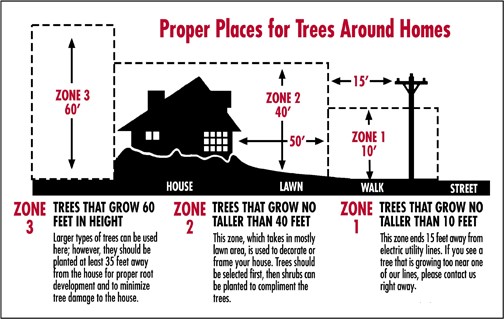 CONTACT US
We're available to our members! If you need help with any of your NineStar Connect services, use the link below to get in touch.
Contact Us